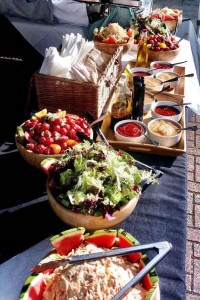 Hog Roast Hertfordshire's professional, experienced and knowledgeable staff will help you plan your event and tailor your menu to your own wants and needs. From the get-go, you'll find us warm and friendly, as well as flexible and accommodating when it comes to your preferences. When you're organising a party or event, it can be fairly stressful, so that's where we come in, to take the reins in terms of the food. By doing so, it means that you can concentrate more on other aspects and so that on the day you can spend more time with your guests and be able to take the time to enjoy our food yourself, too.
Your Party, Your Food, Your Choice
We use fresh, quality ingredients to make dishes that all your guests will love and that includes those with dietary needs or personal choice. Whether you need a vegan, vegetarian or gluten-free alternative, for example, we've got you covered.
In addition to ensuring that special diets are catered, we also make sure that we offer variety, so we don't only cook hog roasts for your main course. It's something that we do very well here at Hog Roast Hertfordshire, and have perfected over the years, but if you prefer, we can cook spit-roasted birds or animals, such as chicken, turkey, beef, or lamb. If you fancy a barbecue instead, we cook a mean burger (handmade and 100% beef, no less) and our chef's own gourmet sausages, and we can provide other options such as Thai chicken kebabs, marinated spare ribs and whole roasted salmon.
We can freshly prepare salad dishes or cook fresh vegetables and potatoes for your event, put together a menu of several courses and even supply homemade desserts. Your wish is our command, so whatever you have in mind for you and your guests, we'll help you to make the best of it. After all, it's your event, not ours, so it should be your choice of food rather than ours.
The Best Hog Roasts In Hertfordshire
While Hog Roast Hertfordshire can provide all kinds of options and we love to offer our customers plenty of variety, our sumptuous hog roasts really are the best in town. Don't just take our word for it – try one for yourself today and you'll be hooked!
To hear more about us and our delicious hog roasts when why not give us a call?